Alchemy I and II yeasts blends were the first products on the market to combine two yeasts in the one pack. The strains were specifically chosen after extensive research to enhance the wine aroma based on the metabolic interaction between specific yeast strains present in the blend. Alchemy I and II are now widely used in new world white wines.
Now with the introduction of Alchemy III and IV for red wines, a complete range of yeast blends is available.
This vintage, why don't you see for yourself how they enhance the volatile aroma compounds of your wines. Our winemaker clients who trialled Alchemy III and IV last vintage were extremely pleased with the results and have already started to reorder for Vintage 2018.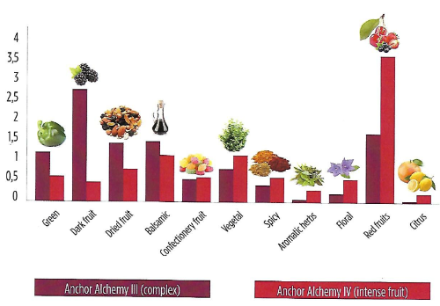 Aromatic profile of Alchemy III and IV (intensity score from 0 to 5)
Anchor Bacteria 3.2
Last year, Anchor released their second Co-inoculant bacteria blend. This blend can be used in wines with a pH down to 3.2.
The benefits of this blend of Oenococcus oeni and Lactobacillus plantarum include:
• decreases in green characters
• increased roundness and mouthfeel
• reduced astringency
• enhanced dark fruit aroma in reds
• timesaving and ease of use by inoculating the same day as yeast
Significant studies by leading independent researchers on the benefits and efficacy of this product has been conducted. Click here for more details.
Maxaferm yeast nutrient
Maxaferm is designed to give yeast the best food possible. As well as providing the nutrients required for yeast to multiply, it also improves yeast alcohol tolerance and viability in the last phase of fermentation. Don't risk it – give each ferment the best chance to succeed! Maxaferm is part of the complete yeast nutrition range from Oenobrands.

To find out more about the technical specs and research behind these and other Oenobrands products, contact us for your free Oenobook No 7.