Self-brett launch and Zenith webinar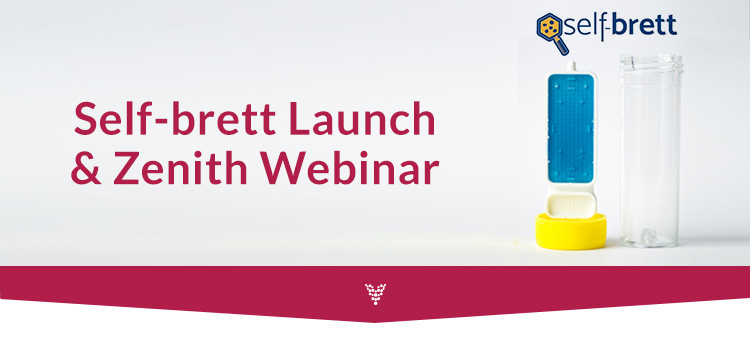 Self-Brett is an innovative new device that makes testing Brettanomyces in your winery simple and easy.
It is based on a patented selective growth media that is specific to Brettanomyces species, incorporated into a very simple-to-use device.
The benefits of Self-Brett are:
Simple to use
No other lab equipment needed
Positive Brett detection by both smell and visual colony growth
No laboratory skills required
Semi-quantitative determination
To use: open the tube, pour in wine, drain, re-seal and leave
Developed in Italy by Dr. Simona Campolongo of Grape SRL and now used around the world and brought to Australia exclusively by Vintessential Laboratories.
"When I met Simona at Simei in Milan in late 2019, I saw straight away that this device fills a real gap for wineries to use an easy and low-cost method of Brett detection. With the backup support of our labs to do more quantitative testing if needed, this is a ground-breaking way for winemakers to manage Brettanomyces" Greg Howell, Managing Director of Vintessential.

Vintessential Laboratories, in conjunction with Enartis, invites you to a free online seminar on Zenith: the revolution of tartrate stabilisation.
Zenith is a revolutionary product range which contains potassium polyaspartate (KPA), a molecule developed by Enartis specifically for tartrate stabilisation of wine. Previous methods for tartrate stabilisation have limitations involving performance, quality, time and cost. Zenith addresses these limitations as the most effective tartrate stabiliser on the market.
In this webinar, the following topics will be covered:
Background and trial data on Zenith
Zenith's impact on quality, sustainability and cost
How to use Zenith (still and sparkling wines)
We have also invited a winemaker who is an existing user of Zenith to share the experience on application of Zenith in the cellar. This will be followed by a live Q&A session at the end.
 Date: Thursday, August 27
Time:2:00-3:30pm (Australia/Melbourne Time)
Fee: FREE!
Instructions to participate in the webinar:
Register here for the webinar. You will receive an email after registering with a personalized link from ClickMeeting.
Using the latest version of Chrome web browser is highly recommended. We've had complaints regarding Microsoft Edge.
The best connection is through a physical Ethernet cable. Wi-Fi can also be used from a desktop or laptop computer. Alternatively, you may also access the webinar through a tablet or smartphone via the ClickMeeting Webinars app or a web browser. Your confirmation email will also include instructions to phone in to the webinar.
If you require more information please contact: education@enartis.com